The Carnivorous Carnival
Written by Lemony Snicket
Illustrated by Brett Helqvist
Reviewed by Darin S. (age 11)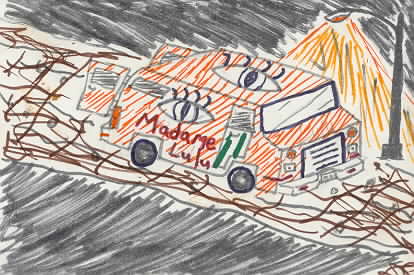 If you have read some of the previous Series of Unfortunate Events books and you liked them, you'll love this book. It's about three children, Violet, Klaus, and Sunny Baudelaire. The three children are in the trunk of Count Olaf's car, the last person you'd think they would be riding with. Luckily, Count Olaf didn't catch them. He and his car full of henchmen drive to a carnival and ask a fortune teller where the Baudelaires are. When the Count wasn't looking, the Baudelaires broke out of his trunk and disguised themselves as freaks using his costumes. Will Madame Lulu tell Count Olaf the correct location of the Baudelaire orphans, or will the orphans escape his evil torturous plans another time?
I thought this book was a really good book, one of my favorites. I like it because it has a good problem and I like the way the author describes everything in the story with detail. I also like the way he gives you a definition for big words that you might not know. One of my favorite parts is when Sunny growls because I think it's funny. I thought that all of the freaks in the caravan were pretty interesting, like Hugo the hunchback and Colette the contortionist and the last freak in the van, Kevin the ambidextrous freak. I loved the whole book. The illustrations in the book were superb.
This book is unique with its sadness. If you like stories about children that are sad and about terrible events, then this is the book and series for you. (Series of Unfortunate Events.) If you like drama, some action and stories that keep you hooked read this book. I'd recommend this book to 4th-6th graders and some adults. You also might like this story because every bad thing you can think of that might happen to you, might happen to the three children in this book.