Holes
Written by Louis Sachar
Reviewed by Samuel P. (age 11)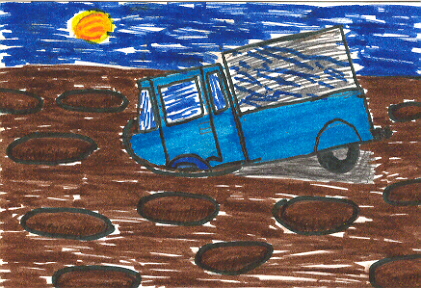 Do you know what it is like to dig holes every day? Well, Stanley Yelnats knows. Stanley is accused of stealing Clyde Livingston's shoes, and was sent to Camp Green Lake. He thinks that Camp Green Lake is a fun place, but the camp is really a place for "bad boys" to dig holes. The camp is dry, hot and never gets rain. Stanley meets new friends at camp: X-Ray, Squid, Zero, Magnet, Armpit, Zigzag, and Barf Bag. Zero runs away after he saved Stanley from Zigzag. The next day, Stanley steals Mr. Sir's water truck, but gets stuck in a large hole. Read this book and find out what happens next.
I really liked Holes because of all the action. The characters that I found interesting were Stanley and Zero because they were the nicest in the camp, and they both helped each other. My favorite part in the story is when Stanley and Zero found the treasure. They were about to get out, and they noticed that they were digging in a yellow-spotted lizard home.
I recommend this book to people who like action and adventure. Holes has interesting characters, daring adventures, and it's a great book for anyone in third grade or older.