Mystery on Rampart Hill
Written by Emily Burns
Illustrated by John Breeding
Reviewed by Kayla P. (age 11)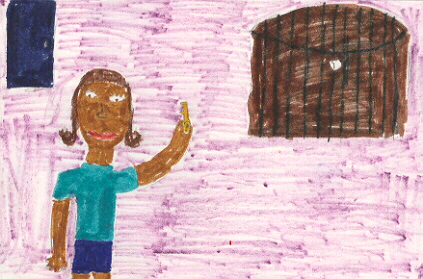 Have you ever thought you would be a detective? Stephanie and her twin brother Steve live in the Rocky Mountains of Colorado. They never thought they would be detectives, but now they are. Trying to help build a new library near their home, they start to hear weird noises and find out that someone is following them! Soon they learn that someone will do anything to keep them from finishing the library. They have to find out who is doing this to them and fix it before anyone gets hurt! The construction of the library can't be slowed down, not after all this exhausting work! Will they find out who is causing all this trouble?
This book tells about how important teamwork can be. I really enjoyed reading this book. I liked it because a boy and a girl went on this exciting adventure. This book is the first in the series and in every book the main characters have a great mystery to solve! My favorite part is when Stephanie finds the diary and starts to solve the mystery. Stephanie was my favorite character because she helped everyone with homework and solving the mysteries!
I recommend this book for people who like mysteries. If you like them, this book is for you!