The Outcast of Redwall
Written by Brian Jaques
Illustrated by Allan Curless
Reviewed by Erik M. (age 11)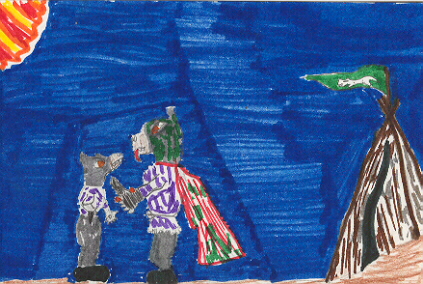 Have you ever felt like an outcast? Well, the ferret Veil Sixclaw has. Unable to escape his father's evil blood, he accepts his fate, soon becoming evil himself. He is raised by a mousemaid named Bryony and he just cannot become good. Finally, he tries to murder another creature at Redwall Abbey, and is cast out into Mossflower Wood. He decides to find his father, the Warlord Swartt Sixclaw. When he meets with this fearsome Warlord, he is forced to decide his fate; as enemy or ally of Redwall Abbey.
I liked this book because it is full of adventure, treachery, friendship, and the battle between good and evil. I couldn't put it down because of the writer's fluency. My favorite character was probably Sunflash the Mace, the badger Lord. I liked him best because he only used his mace, a kind of club, when he really had to. While I was reading this book, I thought about what it must be like to be taught one way but be unable to escape your nature, then having to follow it and become an outcast.
I would recommend this book because it is full of suspense and intrigue. I would also suggest you read it if you like adventure and action.Everyone from young adult readers to adults would love the Outcast of Redwall. I strongly suggest that you dive into this wonderful book!