Jurassic Park Adventures Survivor
Written by Scott Ciencin
Reviewed by Dominic M. (age 11)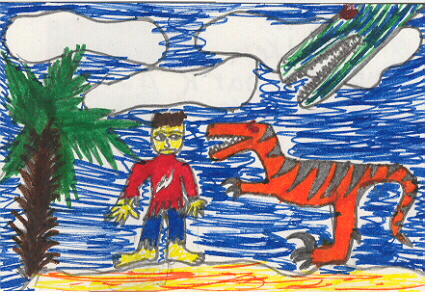 Do you like Dinosaurs? Do you like ADVENTURE? Then the book, Jurassic Park Adventures Survivor, is a very good book for you. It is about a boy named Eric Kirby who went parasailing over Isla Sorna with his mom's boyfriend and had to crash land on the island. Now they are stranded on an island filled with dinosaurs! It's up to you to read the book and see if they survive.
I really liked this book and its characters because they remind me of my own family. When one of us is in trouble we all pitch in to help out. Another reason I like this book is because the main character, Eric Kirby, changes a lot through out the story. My favorite part of the story is when Eric finds a safe house and can finally breath a sigh of relief.
I recommend Jurassic Park Adventures Survivor to people who love RAW DINO ACTION! I also enjoyed this book because I love dinosaurs so if you like dinosaurs then this is the book for you.