Wayside School Gets A Little Stranger
Written by Louis Sachar
Reviewed by Julia C. (age 10)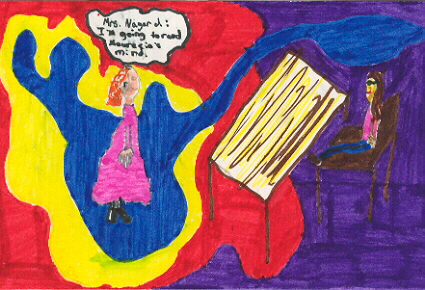 Is your school strange? Or is your teacher even stranger? Well, the kids who go to Wayside School have both a strange school and an even stranger teacher. The kids in Mrs. Jewls' class are good children some of the time but their teachers are not. Mrs. Jewls is the only nice teacher. She is going to have a baby which means the kids get a new teacher, Mr. Gorf. "Mr. Gorf is a strict teacher", the children say; and they are right. But they don't know that until somebody opens the closet door and Mr. Gorf pops out. He does something horrible. Do the children get a new teacher? Does somebody help them? If you would like to know what happens, try reading the book.
I thought this book was very interesting because it was about this strange school and these kids. I like books that are funny and have good descriptions. My favorite part was when there was a woman who had three ears and could read people's minds. One day she was at the museum and she met a man. They fell in love. But as their love gets deeper, something happens. Later when she is the substitute for Mrs. Jewls is when something else surprising happens. Is that surprising thing good or bad? I hope you'll read the book to find out what happens.
I would definitely recommend this book because it is funny and it doesn't have boring parts. It keeps on going with great details that hold your attention. This book is for anybody who likes stories that seem real, funny and for anybody who would like to know what its like to have a strange school.