Moby Dick
Written by Herman Melville
Reviewed by Yoshiko B. (age 11)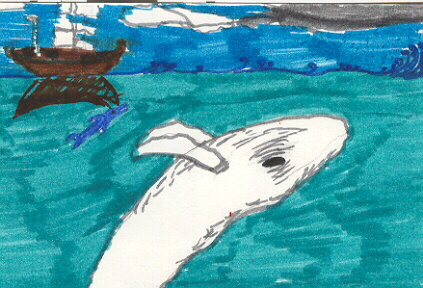 Captain Ahab vowed on his sailor's life that he would one day spear the dying flesh of the white whale, Moby Dick, and sail homeward with victory in the Pequod. His ivory leg would rejoice! But until then, his crew must sail across the vast seas hoping to regain their fierce captain's revenge.
In this classic story, you may experience life on a little ship, the Pequod. You'll explore the treacherous journey of fear, excitement, and more. You will meet the crew, including the young sailor, Ishmael. He will ride the pages of the book with you. You will feel the wind in your face, the salty air swirling, and discover what lies beneath the waves. Who will be the one to survive this game of death? Will they be able to capture the one-and-only white whale that bit off Captain Ahab's leg? Moby Dick will tell you.
This author writes with such intensity that you won't be able to put this book down. Herman Mellville writes with vivid descriptions and makes sure that you won't be able to resist the vengeance in Captain Ahab, and the juicy suprises hidden away in the treasure chest. You will love the humor in this book, and especially the part when the white whale decides to strike back.
I would highly recommend this adventure to people of any age that have limitless imaginations and a taste for the sea. You will enjoy this book!