The Headless Cupid
Written by Zilpha Keatley Snyder
Reviewed by Adam O. (age 9)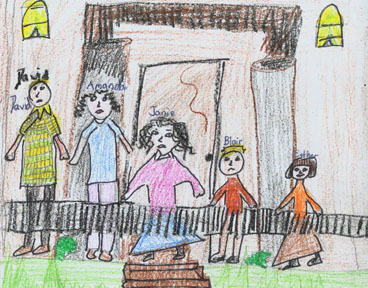 This story is about four kids named David, Blair, Esther and Janie who meet their stepsister named Amanda. Amanda believes in supernatural things. After a while things started going wrong. Rocks come from all over the place and furniture starts breaking. The five kids try to find out who or what did it. If you want to find out I suggest you read the book.
I think the book was very good. I liked it very much. I liked it because it was very mysterious and funny. My favorite part is when the cupid?s head is found. I like that moment, because the head is found in the most awkward way. There is a character that I like a lot and that is David. I like him, because I have a lot in common with him. David reminded me of myself, because he is the oldest and David has to help out his brother and sisters and that is what I do. There was a character that changed and that was Amanda. She changed by becoming nicer to the four kids. I think the illustrations were very good, because they show exactly what happened in the chapter. The illustrations are also very detailed. Something unique about this book is that it has many mysteries going on at the same time. This book is like some other books by the same author. This book is part of a series, which all have the same characters.
I recommend the book, because it is a very good book. The kind of audience that would like this book is one that likes mysteries. I felt excited as I read the book, and I think you will too. You also might find some of yourself in these characters.