Gingerbread Baby
Written by Jan Brett
Illustrated by Jan Brett
Reviewed by Isabelle C. (age 8) & Amanda C. (age 8)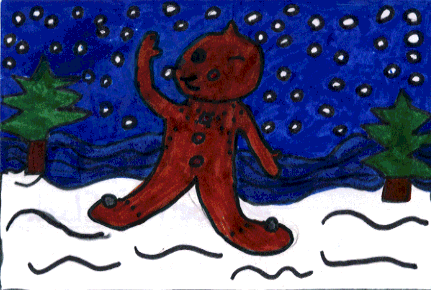 Matty is a boy who lived in the country. It was a cold and snowy day and Matty was baking a gingerbread baby. The old recipe said not to peek before eight minutes. It smelled so good in the cottage that Matty had to peek. When Matty opened the oven, instead of a gingerbread boy popping out, a gingerbread baby popped out and ran out the door saying things to make the village try to catch him. He cried, "Catch me if you can!" Soon the whole village was after the gingerbread baby, but could not catch him. Then the gingerbread baby smelled something familiar and ran towards it. What was it? Did the villagers ever catch the gingerbread baby? It's a sweet and delicious gingerbread adventure. Read this book and find out!
We thought this book was exciting and funny because of the gingerbread baby. The gingerbread baby was funny because he was really cute. Amanda liked the part when the gingerbread baby ran through Matty's dad's legs and into the snow. Isabelle's favorite part was when the gingerbread baby was doing cart wheels on the goats. We also found the part when the gingerbread baby got chased by a hungry fox exciting. The book made us hungry and we were thinking, "Hurry up! We want to go to lunch." We also liked the detailed illustrations. This book made Isabelle smile and Amanda laugh really hard. We both found a lesson in the book: Follow the recipe, even if you want it to be different.
We recommend this book because it's funny and exciting. We also recommend this book to anyone who likes to laugh. We think this book is for all ages because it has nice, detailed pictures and it has a lesson. The lesson can teach all ages. It is really good for 2nd and 3rd graders because it is not too easy and it is not too hard. If you like Jan Brett books, this would be a good book for you.