Benjamin McFadden and the Robot Babysitter
Written by Timothy Bush
Illustrated by Timothy Bush
Reviewed by William L. (age 7) & Zachery A. (age 8)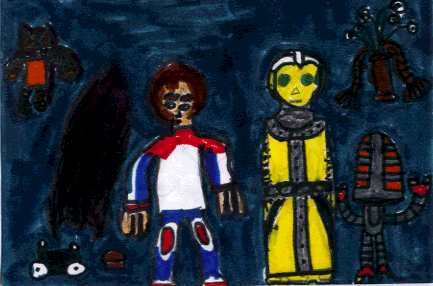 Benjamin is 6 years old. Benjamin's parents went to a party and left Benjamin alone. He was left with a robot babysitter and his cat, Fantastic. When Babysitter said, "It's time for bed," he reset Babysitter with a new program for fun. After Benjamin reset Babysitter, he turned off the gravity control. If you want to find out what happens to Benjamin and if they have fun, read this book.
Our favorite parts are when Benjamin yells, "Abracadabra! Open Sesame! Rumplestiltskin! Toasted cheese!" and when there were a lot of robots and they answer, "FUN!" William liked the illustrations on page 23-24. He likes them because the robots are highly detailed. It reminds him of when he wanted to go somewhere fun while his mom and dad needed to go shopping. He likes the book because it is crazy. Zachary's favorite part is when Babysitter goes crazy because Benjamin resets Babysitter.
We recommend this book to people who like crazy stories because this book is about crazy fun. If you like crazy comedy fiction books, you will definitely like this crazy comedy book and if you like robots, you will also like this book because most of the pictures involve robots.