MARTHA SPEAKS
Written by Susan Meddaugh
Reviewed by Genevieve F. (age 7) & Emiliano B. (age 7)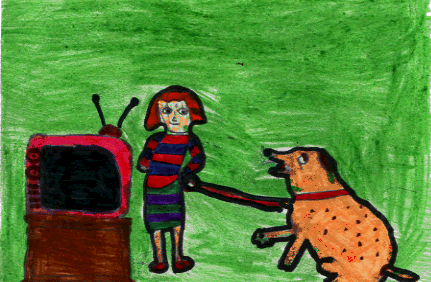 In this book, the dog Martha ate alphabet soup. Then the letters went up to her brain instead of her stomach! She started speaking English like a real person because the letters went up to her brain! She said whatever was on her mind. Martha's family didn't like it because she said mean and embarrassing comments about people on the street that she didnt know.
Now that Martha can talk, she makes phone calls. When the family goes away, a robber comes! Read the book and find out what happens next!
Our favorite characters were Helen and Martha because Martha was funny and Helen was very smart. While we read this book, we felt cool because we loved it and it was very funny. Our favorite part was when Martha talked and talked and talked all day long.
We thought that the illustrations were interesting and cool because the illustrator used many different colors in the book. We really liked the paintings. The book reminded Genevieve of her two dogs because it made her feel like her dogs could talk.
We recommend this book to boys and girls of all ages because it is a very cool kid book and it's a really great story. Plus, it's very funny. There are very funny paintings because it had Martha in it which made it very funny and interesting. Our favorite part was when Martha starts talking and the family was so amazed.