The Principal from the Black Lagoon
Written by Mike Thaler
Illustrated by Jared Lee
Reviewed by Kelly H. (age 7) & Danielle F. (age 8)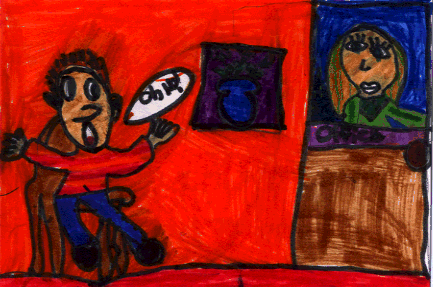 This book is about a boy named Hubie. He is sent to the principal's office for sweeping the teacher's wig off with a broom. He walks to the waiting room. The principal is supposed to be a real monster! Some kids even get fed to her pet alligator. Hubie thinks of things that happened to other kids. If you are lucky, you get put in the cages, because something worse could happen! Oh no! There's a shadow at the door. Who is it? Read the book and find out!
We thought this book was funny because Hubie thinks of silly things that aren't true about his friends. Kelly's favorite part is when the door slowly opens because Kelly thinks it's crazy when bats and stuff come out of the door. Danielle likes the part when Hubie imagines himself with the ears of a rabbit because she thinks it's funny. The first time Danielle read this book, she was a little scared and she wondered what would happen! We both like this book because it is filled with surprises. This book is similar to the other books in the Black Lagoon Series because they are all very silly.
We recommend The Principal From the Black Lagoon to people who like books full of silly surprises because this book has a lot of them. We also recommend this book to people who go to the principal's office a lot, you never know what might happen. The illustrations are very interesting because Hubie thinks of things that won't really happen. If you like this book, you probably will like some other books from the Black Lagoon Series!