Gingerbread Baby
Written by Jan Brett
Illustrated by Jan Brett
Reviewed by Melissa B. (age 7), Karla H. (age 7) & Max M. (age 7)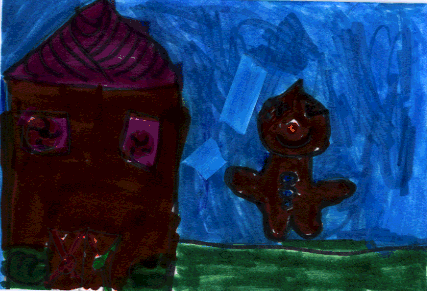 In the book, Matt is a boy. He opens the oven just to take a little peek, but then out jumps a gingerbread baby! In the beginning of the story, Matt and the Gingerbread baby had a big adventure. In the middle of the story, the Gingerbread baby took one braid from one of the two girls and tied them into a knot! We think this is a good book for you. Find out if the Gingerbread baby gets caught or not.
We like the book because of all of the animals that are in the book. This book has a gingerbread baby that comes alive. We like the part where the Gingerbread baby found the gingerbread house because we thought he was going to get caught by the people, but he didn't.
The Gingerbread Baby is the main character in the book, and even the title is named after him. When we read the book it made us feel like we were in the book. Karla and Melissa liked the part where the Gingerbread baby ran through Matt's father's legs and into the snow.
We recommend this book for you if you like funny, yummy, colorful, and silly stories. Also, if you like Jan Brett books, then you will like The Gingerbread Baby. If you like making gingerbread cookies, you will enjoy this book because this book is about a gingerbread baby.