The Custodian from the Black Lagoon
Written by Mike Thaler
Illustrated by Jared Lee
Reviewed by Dylan M. (age 7) & Leo F. (age 8)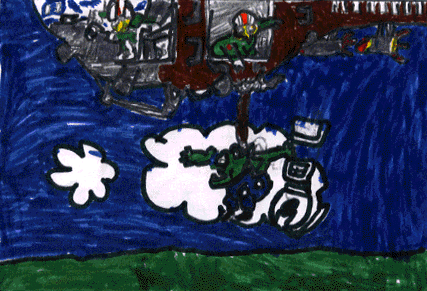 This book is about a custodian named Fester Smudge. Students in the school say weird things about him to the main character in the book. For example, they heard that the Coast Guard rescued Fester from the toilet bowl, and they also heard that the fire department came to rescue him from a folding chair! Will the boy find out if the custodian is good or bad? Read the book and find out!
Our favorite part from the book is when Fester Smudge got rescued from a toilet bowl because we thought it was funny. The character that we liked the most was Fester Smudge because he was the funny victim. We think the Principal from the Black Lagoon is like this book because they both have people that are really nice, but have bad things told about them. We also liked this book because the main character always got scared by the custodian.
We recommend this book to all children that are starting school even if their parents read it to them because they shouldn't think their custodian is a monster. People of all ages could also read this book because the words aren't hard to read. You could laugh at this book because most of it is funny.