The Carnivorous Carnival
Written by Lemony Snicket
Illustrated by Brett Helqvist
Reviewed by Lauren P. (age 10)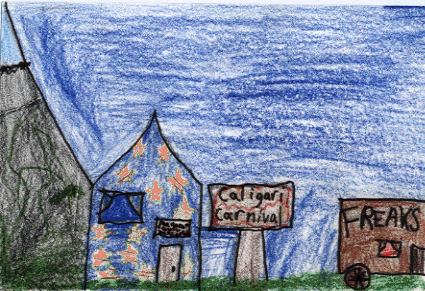 Have you ever read a book from "A Series of Unfortunate Events"? This is the ninth one in the series. It's about the three Baudelaire orphans who lost their parents in a fire. An evil relative, Count Olaf, has been trying to kill them and steal their fortune. In this book they end up at a carnival. They have to dress up as freaks to disguise themselves. The orphans are trying to figure out if one of their parents is still alive. They make friends with a fortune teller who says she will help them. Meanwhile, Count Olaf brings hungry lions to the carnival and plans to throw a freak into the lion pit. As freaks, the Baudelaires get called on to jump in the lion pit. Will the Baudelaires escape? Read the book to find out.
I liked the book Carnivorous Carnival. I liked this book because I think the characters are interesting. This book is like the other books in "A Series of Unfortunate Events." The characters remind me of people in my life, like Klaus reminds me of my mom because she loves to read. Sunny reminds me of myself because we both are the youngest people in our families. That's what I like about the Carnivorous Carnival.
I recommend this book to people who have read and like the other books in "A Series of Unfortunate Events." I think you should be in fourth grade or higher to be able to read this book.