Horrible Harry and the Christmas Surprise
Written by Suzy Kline
Illustrated by Frank Remkiewicz
Reviewed by Patrick K. (age 7)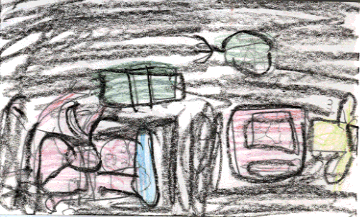 When Miss Mackle was reading a Christmas story to her class her rocking chair broke. She had to go to the hospital. The principal, Mr. Cardini, took over for her and the children had fun. He played Mother Goose in the Christmas play instead of Miss Mackle. On the last day of school before the vacation Mary, Ida, Song Lee, Harry, Doug, and Sydney sang a Christmas carol to Miss Mackle outside of the hospital window. She loved it.
My favorite part is when the principal dressed up in Miss Mackle's Mother Goose costume because Mr. Cardini looked so funny in a dress. I have never seen a principal wear a dress before. This story reminds me of when my mom broke her leg and had to go to the hospital.
I think others should read it because it is a great books. The pictures are really funny, especially when Mr. Cardini is in charge of the class.