Buster's Dino Dilemma
Written by Mark Brown
Illustrated by Brown, Mark
Reviewed by Ryan M. (age 8)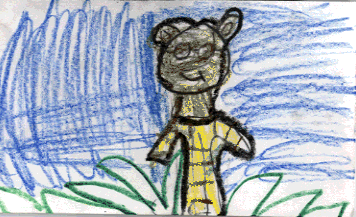 Buster finds a fossil on a class field trip and he doesn't want to give it back. Arthur tells him to turn it in but Buster doesn't want to. Buster thinks it's a rare dinosaur foot. Ranger Ruth figures out that Buster stole the fossil so he finally does the right thing and turns it in.
My favorite part of the story is when Buster had a weird dream where Francine and Binky were dinosaurs. It is really funny because Buster thinks it's true until he wakes up. This story reminds me of the field trips we take in our class.
I think others should read this book because they will be entertained by the pictures and the story.