The Black Stallion
Written by Walter Farley
Illustrated by Keith Wards
Reviewed by Emily K. (age 10)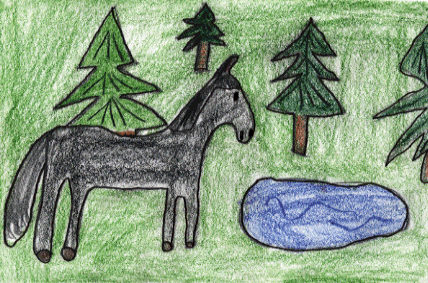 Have you ever wanted a horse of your own? Well, in The Black Stallion a boy named Alec does. When they get stranded on an island after their boat sinks, Alec and Black (what Alec named him ) become friends. Since Black has no owner, Alec calls Black his own. After a fire on the island, a boat comes to their rescue. When Alec and Black get home, Alec's neighbor helps Alec train Black to race . Henry and Alec believe Black is the fastest horse in the country. Black had not been raced with any horses. When Black does race for the first time in public, he races Cyclone and Sun Rader, supposedly the two fastest horses in the country. Does Black win or lose? You will have to read the book to find out.
My favorite part is when Henry and Alec find Black in the woods on the golf course. I liked it because I imagined Black when he went to Alec with all his fur covered in burrs. It looked funny. The character I liked was Henry. To me he would look like a plump and bald farmer. It was funny when he was amazed at how fast Black went and that Alec could stay on Black. The Black changed throughout the book. At the beginning he was very sensitive around everyone. After Alec calmed Black, he was wild but not so much.
I recommend this book to boys and girls who like adventures or horses. If you like books by Gary Paulsen, Peg Kehret, Marguerite Henry or Anna Sewell you might like this book.