The Bad Beginning
Written by Lemony Snicket
Illustrated by Brett Helquist
Reviewed by Luke M. (age 10)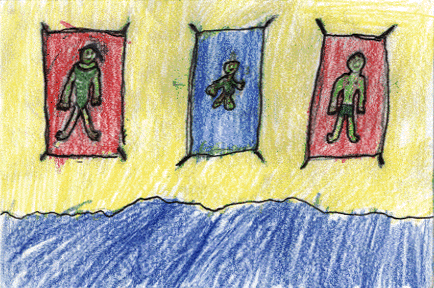 This book is about three orphans named Violet, Klaus, and Sunny whose parents died in a terrible fire. The orphans' parents left them a huge fortune. The orphans are sent to live with Count Olaf. Count Olaf makes them clean, cook and chop wood. One morning Count Olaf invites them to perform in his play, "The Marvelous Marriage." Then one day when the orphans have to cook dinner for Olaf's theater troupe, Olaf smacks Klaus in the face! They go to Mr. Poe the man who placed them in the care of Olaf. Mr. Poe thinks Olaf disciplines by smacking. Do you think Olaf is up to something? Read The Bad Beginning from the series "A Series of Unfortunate Events" to find out what happens.
I liked this book because all of the characters remind me of myself because I like to invent, read and chew on things. This book is the first in the series but all the books have much misfortune. I felt sorry for the orphans as I read on in this book. I would recommend this book to anyone.
I recommend this book to anyone who is a good reader. Once you begin this series, you can't stop reading. The orphans have so many adventures you just have to read on to find where they go next.