The BFG
Written by Roald Dahl
Illustrated by Quentin Blake
Reviewed by Katie D. (age 10)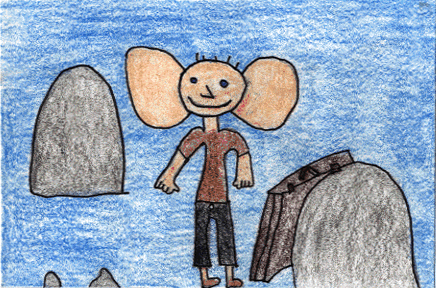 The BFG is a story about a Big Friendly Giant. One night when the BFG went to blow dreams into children's bedroom windows, a girl named Sophie saw him. So since Sophie saw the BFG he had to take her away from the orphanage or else she might tell everyone there was such a thing as a giant. The BFG wasn't the only giant. There were nine more giants, but the other giants weren't nice like the BFG. They're very mean. If you want to find out more about the BFG you'll just have to read the book.
I thought the BFG was different from most books because I have never read a book where a giant blows dreams into windows. I also thought this book was neat because you could really imagine those dreams happening. My favorite part was where the BFG takes his brothers to the palace and makes them eat snozzcumbers. I liked that part because of how the giants aren't eating humans anymore. I felt happy when they took the mean giants away so that they wouldn't eat human beings. I liked that part because now everybody is peaceful and happy.
I recommend this book to people who like books by Roald Dahl. This book is for third graders and up. I also recommend this book to people that like fairy tale stories. You should read this because it is neat and fun to read.