Tales of a Fourth Grade Nothing
Written by Judy Blume
Illustrated by Roy Doty
Reviewed by Jaycee M. (age 9)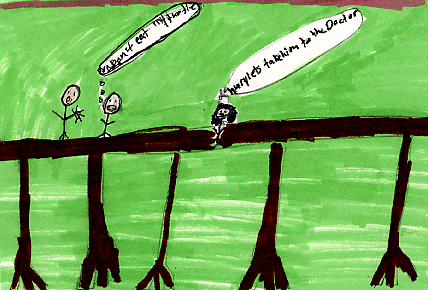 This book is mainly about two brothers who don't get along. Fudge was the terrible one. Like when he was in the movie theater throwing popcorn at people in front of him. Peter was the good kid. He never did anything wrong. Fudge got everything Peter got. And he got into everything Peter had.
I Iike this book. It's funny and serious. This book is full of surprises. The funny part was when Fudge cried about his shoes. The serious part is when Fudge ate Peter's turtle and didn't care. My favorite part was when Fudge ate Peter's turtle because it surprised me that he would do that. It reminds me of when my sister ate a cotton ball because she thought it was cotton candy. It was funny!
I recommend this book because it is awesome. You can imagine this book just by looking at the cover. I think third grade and up will enjoy this book.