Cam Jansen and the Mystery of the U.F.O.
Written by David A. Adler
Illustrated by Susanna Natti
Reviewed by Cameron C. (age 9) & Journey B. (age 8)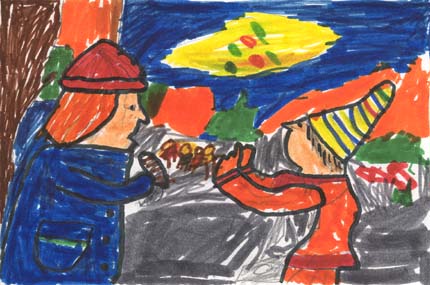 Cam solves mysteries with Eric. People saw a U.F.O. in the sky. Everybody was afraid of it. They were pointing at it. Cam Jansen and Eric knew that they had to solve this mystery. The mystery was really hard to solve. They have to see where the U.F.O. was coming from and why it was coming. Cam and Eric tried to solve the mystery for three weeks and asked people questions. We can not tell you the end of the rest of the book because we want you to discover the mystery for yourself.
Journey likes the book because it has some kids dressed up like aliens. He liked how they were dressed because they look really funny. Cameron was upset to find out what the mystery really was. However, he enjoyed the book because he liked how Cam and Eric went around finding clues and questioning people in order to solve the mystery.
We recommend this book to everybody who loves to read mystery books. I think people should read this book because the book will keep you thinking about what is going to happen next. If people tried to guess the mystery they should read the book to see if they are right.