The Lion, the Witch and the Wardrobe
Written by C.S. Lewis
Illustrated by Pauline Baynes
Reviewed by DJ P. (age 8), Rafik S. (age 8)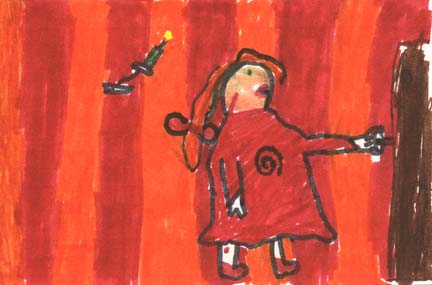 Four children open a door to a magic land
NARNIA.
A land of talking animals imprisoned in winter by the White Witch. Four children save the land from the evil powers of the Witch.
Our favorite character is Lucy, because she is nice. She never lies, and she finds the wardrobe first. Lucy reminds Rafik of his friend Lucy because they are both kind. Lucy reminds DJ of his friend Julia because that?s how he imagines Lucy. We liked the book because its very interesting because they go to battles and stuff like that. This book makes you never want to stop reading because when you put the book down you can?t help it, you just start reading again.
We think that kindergartners should read this book as a read aloud. Even grown-ups should read it. We think that people should read the Magician's Nephew first because it?s the first in the chronicles of Narnia. This book is very funny also, read it and find out why.