George's Marvelous Medicine
Written by Roald Dahl
Reviewed by Melissa G. (age 10)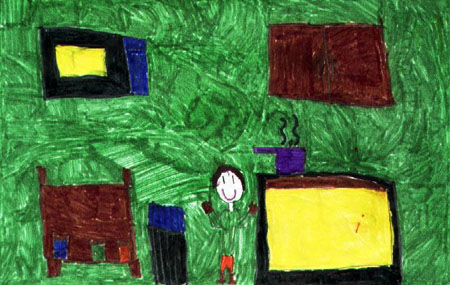 In George?s Marvelous Medicine, a boy name George is babysat by his grandmother, while his mom Betty goes to the Mall. When Betty left, she told George to give his grandmother her medicine. George doesn?t like his grandmother, so he made his own medicine. When his grandmother drank the medicine, she grew and grew. She was bigger than the house.
When Betty got home and she saw her mother so big, she asked what had happened. George tells her, and Betty convinces George to make medicine to bring his grandmother back to herself, and she returns to normal after she takes it.
Betty asks George why he gave his grandma medicine, and he tells her he didn?t like his grandma, because he always thinks she is going to hit him. His grandmother wonders why he would think that. They work everything out, and George has to do chores because of his behavior.
I think after reading this story that you should never do what George did, or you will be in big trouble. I wouldn?t anyway, because I love my grandma. I recommend this story to anyone who likes to make things, who likes to do chores, and who likes to stay home with their grandma.