A Jigsaw Jones Mystery: The Case of the Spooky Sleepover
Written by James Preller
Illustrated by John Speirs
Reviewed by Jaheim C. (age 8)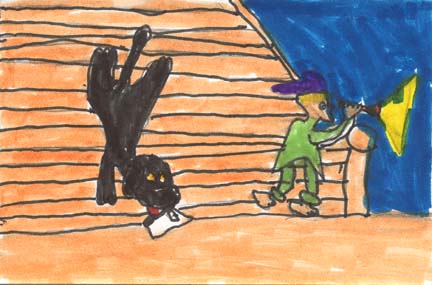 The story is about a boy named Jigsaw Jones who charges people one dollar if you want him to solve your mystery. Ralphie is hearing noises in his house and he thinks it?s ghosts so he tells Jigsaw, ?if you don?t believe me why don?t you sleep over.? Ralphie hired Jigsaw so he could see if there were ghosts in his house. Jigsaw Jones investigates and he solves the case but I won?t tell you if there were ghosts or something else. Read the book for yourself.
I think this book is good because I like mystery books. My favorite part in the book is when the father was watching t.v. and he heard a scary noise. The best character is Jigsaw because he?s always trying to solve something like me. I like the illustrations because they have good details. This book is like a book named Nate the Great. It?s the same because they are both mysteries.
I recommend this book to my brothers because they like mystery books. I also recommend it to readers who like mysteries. You should read this book because it surprises you, when the mystery is solved.