Chrysanthemum
Written by Kevin Henkes
Illustrated by Kevin Henkes
Reviewed by Kanika J. (age 9) & Tyanna Q. (age 8)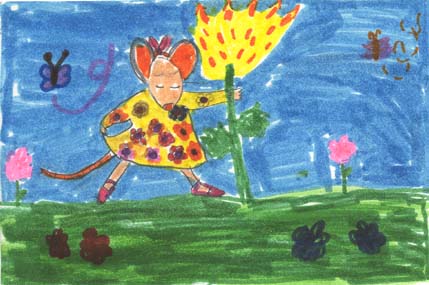 Do you know the book Chrysanthemum? Well the book is about a mouse named Chrysanthemum. She?s sad because the kids in her class say her name scarcely fits on her name tag. Every time she goes to school the kids in her class tease her, but one day the kids changed their minds. Read this book and you?ll find out why!
We liked the book because it had a lot of details. We also liked the pictures because the illustrator used anthropomorphism (that is when a creature is given human quaillties). Our favorite part is when Chrysanthemum is a daisy for the play. We liked this part because we like the way the characters express their feelings. This book reminds Kanika of the book Charlotte's Web because in both books the animals talk.
We recommend this book because it?s funny and surprising.We recommend this book to children up to 4th grade. Also if you like Kevin Henkes books you would love to read this book.