BFG
Written by Roald Dahl
Reviewed by Zach M. (age 10)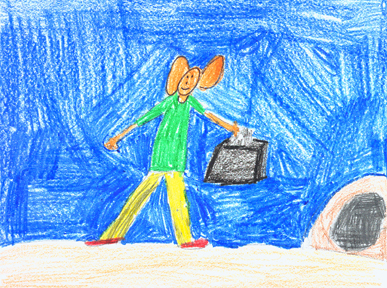 This book was one of Roald Dahl?s best-written stories. It is about a giant named the BFG, Big Friendly Giant, who is not like other giants. Other giants are mean and disgusting. Worst of all, they eat human beings!! The BFG, however, is generous, kind and would never eat a human being. The story starts in London. One night the BFG kidnaps Sophie, an orphan, and takes her to Giant Country where things will never be the same for either one of them.
I really love the book because it is very detailed. Many parts of the book are humorous, for example, when the BFG gave the giants bad dreams, they started to beat each other up. It was very comical. My favorite part of the story was the ending because I felt relieved that the world is safe and happy once again. Like Matilda, The Magic Finger, and George?s Marvelous Medicine, the BFG?s main character is a child. The book reminds of a dream that I once had when this big, green monster walked all over the earth, like the Incredible Hulk.
I highly recommend this book because it is filled with adventure, comedy, and wit. The kind of audience who would like this book would be the kind that likes books that are scary and yet, adventurous and funny. One thing that might interest readers is the Big Friendly Giant?s grammar. He uses words that I have never heard of before, like ?jumbly? and ?chatbags?. The age group that would like this book would be kids that are nine and above. I hope you like this book as much as I do.