The Adventures of Super Diaper Baby
Written by Dav Pilkey
Illustrated by Dav Pilkey
Reviewed by Matilda B. (age 9)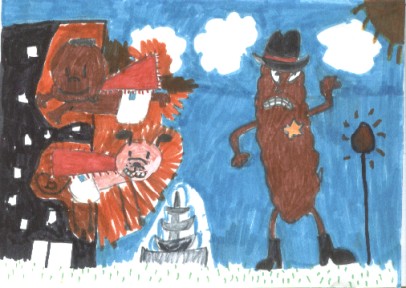 Do you like offensive, disgusting, funny books? Has your neighborhood super villain created a ?super power taker awayer? 2000? In Little Billy?s town that is what happened.
Super Diaper Baby?s town has lost his superhero, Captain Underpants. And Super Diaper Baby has to make things right!
I liked how Little Billy?s doctor gave Little Billy the Spank of Life after Billy was born and Little Billy got knocked out of the window and fell into the bucket of super power juice. Then the super villain who was holding the bucket that Little Billy drank from shouted at Little Billy to give up the juice. Billy got angry and beat the bad guy up. I thought it was funny.
I liked this book. It's funny and it's written like a comic. I love comics.
This book is a lot like Pilkey?s series Captain Underpants. It has the same humor and the main planet is always Uranus.
(I really wouldn?t recommend it for spelling teachers. The spelling is atrocious!) If you think books are boring, this is the book for you! I mean, it?s filled with disgusting humor. Kids like it, so try to get this book!