The Bravest Dog Ever: The True Story of Balto
Written by Natalie Standiford
Illustrated by Donald Cook
Reviewed by Olivia N. (age 8)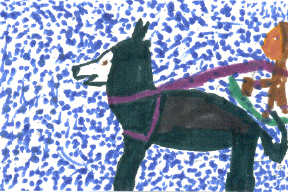 Do you like dogs? This is a true story of a lead dog named Balto. A lead dog needs to be the strongest and smartest. This story takes place in Alaska. Dog sled is the only way to get around during the winter in Alaska. Two children get very sick and need medicine that is 800 miles away. They need the medicine to keep from spreading the sickness to the rest of the people in town. Does Balto get the medicine to the children on time? Why is he the smartest and bravest dog that ever lived? You will have to read the book yourself to find out the answers to these questions.
I thought this book was great! I liked it because I like dogs very much. My favorite part of the story was when Balto stopped because he saw that the middle of the ice was starting to crack. I liked that part because it showed that Balto was really smart.
I think that second and third graders would like this book. It is a true story so all the exciting parts in the book really did happen. If you like true stories or adventure stories you would probably like this book.