John Muir: Making the Mountains Glad
Written by Lauren Ray Pollard
Illustrated by Will Sweeney
Reviewed by Jacob M. (age 8)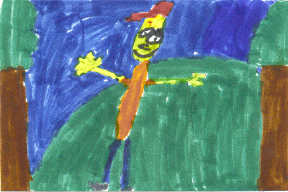 Do you like nature? Then you should read this book. It's about a man named John Muir who came to America from Scotland in 1849 when he was eleven years old. John liked to study nature. He wrote about the beautiful places he saw. Thanks to John Muir and President Teddy Roosevelt, these places are now national parks that we can all enjoy.
I liked this book because it tells about the life of John Muir. It is a true story. My favorite part was when John walked 1000 miles south to Texas and Central America. It's my favorite part because I didn't think that anyone could walk 1000 miles.
Anyone who likes nature would like this book. If you like to go camping you should read this book so that you can learn what John Muir did to help us have a good time outdoors. First graders who read well could read this book by themselves as well as second and third graders.