Junie B., First Grader Boss of Lunch
Written by Barbara Park
Illustrated by Denise Brunkus
Reviewed by Toluwani (age 7)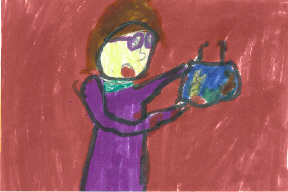 This story starts out with Junie B.'s new lunchbox. Then Junie B. remembers the cookies and milk that her class used to get when they were in kindergarten the year before. She visits Mrs. Gutzman, the cafeteria lady. That's when more trouble starts. Junie B. is always getting into trouble. Read this book to find out what kind of new trouble she gets into when she tries to be the boss of lunch.
My favorite part was when Junie B. saw Mrs. Gutzman because it reminded me of my friend Clint in Arkansas. I haven't seen him for a long time since my family moved to Ohio. I know how Junie B. felt when she saw Mrs. Gutzman after not seeing her for a long time. Just like Junie B., I haven't seen Clint since last summer. I know that I would get excited just like Junie B. if I saw Clint again now.
I have read some of the other books in this series. I really like them because they are funny. Junie B. does things that get her into trouble and that makes the story funny. I think first through third graders who like funny stories would like to read this book.