The Christmas Doll
Written by Elivera Woodruff
Reviewed by Katie P. (age 10)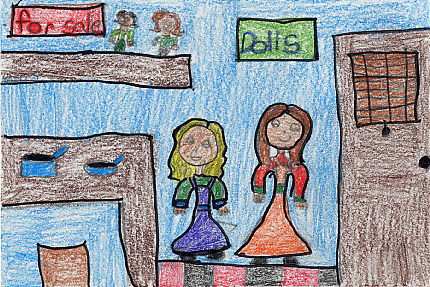 Have you ever seen people get sick and die? Well this story is about two girls and their parents who die from a fever that is going around. Five years later the fever comes back to the workhouse where the two girls live. They run away and they?re out in the cold with nothing but scissors. They meet a boy out in the cold, they said they would work together to stay alive. Then the older sister gets a job to make dolls. But the owner of the doll shop makes a deal with her. If she works, then the owner will give her food and that her stay there. And she gets to keep a doll of her choice. But she is not allowed to let anyone in the shop. She found the doll her sister had when she was little. Does she get the doll and stay alive? Read The Christmas Doll to find out.
I thought the book was happy and sad. I thought it was happy because they get money. I thought it was sad because the lost their parents. Even though the girls parents died they find that good things can still happen. The girls remind me of my brother and me. They remind me of use because the girls help each other. When I read the book I felt very fortunate because the sisters don?t have their parents.
I recommend this book because it makes you think of your life. The sisters have a hard life. If you like happy endings you would like this book.