Holes
Written by Louis Sachar
Reviewed by Michael K. (age 10)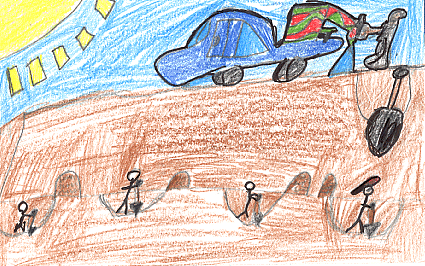 Have you ever got in trouble for something you did not do? Well, in this book Stanley got in trouble for a crime he did not commit and had to go to a detention center called Camp Green Lake, which was located out in the dessert. Every day the boys at Camp Green Lake had to dig a hole 5 feet wide and 5 feet deep. While at the camp, Stanley met a boy that every one called Zero. One day Zero ran away from the camp. Then Stanley stole a truck and went looking for Zero. Stanley crashed the truck so he began looking for Zero on foot. He passed a lot of holes. He found Zero under a very old boat, and then they drank something Zero found and called it splosh. After they drank it all they went off to a mountain that Stanley?s father once went to. When they got to the mountain Zero passed out and Stanley had to carry him up the mountain. To find out if they survive, read this story.
Holes is like the book I read called Side Ways Stories from Way Side School because they are both weird. In this story, the author kept going back and forth through time. The character I liked the most was Zero; I liked him the most because he was nice and friendly. My favorite part of the book Holes is when Stanley uncovered a suit case full of money that had his name on it.
I recommend this book because it teaches a valuable lesson. The lesson is not to steel. The kind of person that would like this book are people who like adventure. That is why I recommend this book.