Earrings!
Written by Judith Viorst
Illustrated by Nola Langner Malone
Reviewed by Jordana G. (age 6) & Karla K (age 6)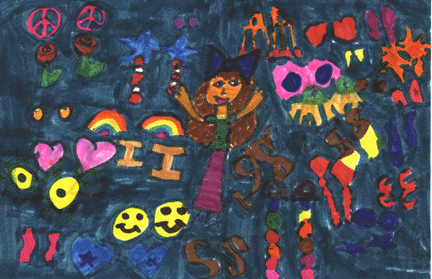 The girl in the book really wants earrings! She begged her parents for earrings! Her parents won't let her get her ears pierced until she gets older. If only they would let her have pierced ears. She would walk her dog every day for one whole year and clean up her room every day for one whole year, and read a book once a week for one whole year and be nice to her little brother for one whole year. Well, maybe six months! Everyone can read this book only if you think it's a good book. Her mother and father are tired of her saying, "I want my ears pierced!!" She always says, "I want them. I need them. I love them! Beautiful earrings. Glorious earrings for pierced ears." Does she get her ears pierced or not?
We like this book because we really wanted earrings! It is really fun. We love the part when she says, "I won't change my clothes. I'll just change my earrings." because it is funny. We like the girl because she is a really funny character. We think the illustrations are beautiful. The illustrations make you feel good because they are colorful. The story reminds us of when we really wanted earrings! We recommend this book to everyone in the whole world. Everyone's wanted SOMETHING in their life. That's why everyone should read this book. Everyone will enjoy it.