Horrible Harry and the Drop of Doom
Written by Suzy Kline
Illustrated by Frank remkiewicz
Reviewed by Dustin U. (age 10)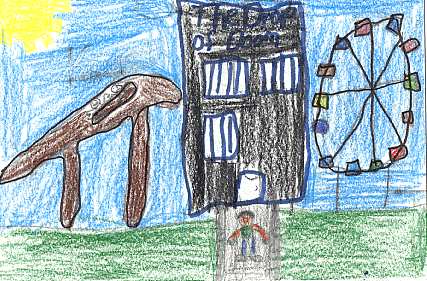 Have you ever been scared of something, but did it anyway? This story is about a boy named Harry and he was scared of elevators. Harry was invited to Song Lee?s end of the school year party at Mountain Side Park. Mountain Side Park has a ride called the Drop of Doom, and everyone likes this ride. However, nobody knew that Harry hates elevators, and the Drop of Doom is like an elevator. He tells Song Lee that he hates elevators. Harry goes to Song Lee?s house and they went to Mountain Side Park. They had a picnic and went to the Kasploosh. Next, they went on a Haunted house. They took a break and got ice cream. Finally, they went to the DROP OF DOOM! Does Harry cry on the Drop of Doom? Read this book to find out.
My favorite part of Horrible Harry and the Drop of Doom was when Harry makes a fist at people because he always gets mad. The story remedies me of when I was scared of a ride and I closed my like Harry did liked this book because I felt I knew the main character. He is a lot like me. I also liked it because I like the rides in the book such as the Drop of Doom.
I recommend this book because it is a good book and it is funny. Someone who likes Horrible Harry books would like this book.