The Boxcar Children
Written by Gertrude Chandler Warner
Illustrated by Likate Deal
Reviewed by Logan F. (age 10)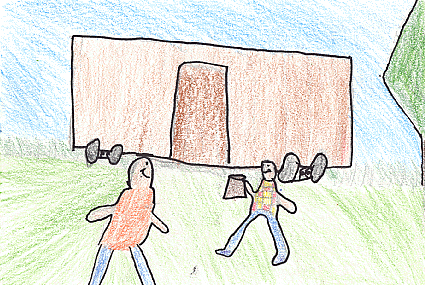 Imagine if your mother and father died and you had to live with your grandpa! This story is about four children named Henry, Jessie, Violet, and Benny. These four children are brothers and sisters that are looking for a home. One day the children find an abandon boxcar in the woods and make it their home. The children find a stray dog and decided to keep it as a pet. Violet, Jessie, and Benny took a walk and found a dump with lots of dishes for them to use. The oldest brother, Henry, goes into town to find work. One morning Jessie cooked a big pot of soup for her brothers and sister. The four children made a swimming pool. Henry won a foot race and twenty five dollars. One day Violet got sick and they take her to the doctor. Finally the children find their grandpa. What happens to the children after they find their grandpa? Read this book to find out.
This book is part of a series that is called The Boxcar Children. There are over 50 books!! I found one character very funny and his name is Benny. He always says ?I?m hungry.? I felt as if I were in the book solving the mystery with the boxcar children.
I recommend this book because it is scary and exiting. People who would like this book are people who would like series and mysteries. I like this book because of the mysteries.