Green Eggs and Ham
Written by Dr. Seuss
Illustrated by Dr. Seuss
Reviewed by Jazzmyn B. (age 7)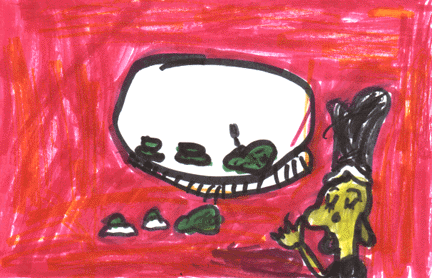 There is a creature whose name is Sam-I-Am and Sam-I-Am was a pest. He kept asking this other creature to eat green eggs and ham. The creature asks him to eat it in different places. It is kind of funny and the creature says to Sam, "If you let me be, I will try them. You will see." Sam-I-Am says, "You do not like them. So you say. Try them! Try them! And you may. Try them and you may, I say." In the middle of the book, Sam says, "Say! In the dark? Here in the dark! Would you, could you, in the dark? I would not, could not, in the dark." The creature who gets bugged by Sam hates green eggs and ham.
I like this book because Sam-I-Am was very funny when he kept asking so many questions. When he was asking so many of those questions, he had a funny voice. At the end, it's kind of weird and it's a weird, happy ending. But that's not all.
I recommend this book to everyone because I think it's a really good book for a lot of people. Dr. Seuss wrote this rhyming book. I think little kids would like this book. Older kids would like it too. I like Sam-I-Am. He's my favorite character. He is a funny character. That's why I like him. I like this book very very much.