The Bad Beginning
Written by Lemony Snicket
Illustrated by Brett Helquist
Reviewed by Alix R. (age 10)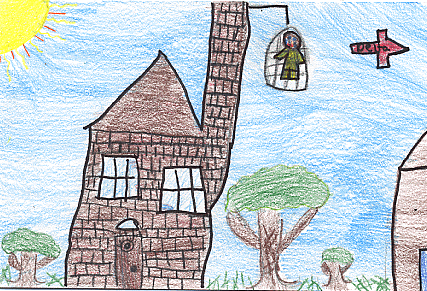 Imagine if while you were away your parents caught on fire and died. Well that?s what happened to the Baudelaire children. They were at the beach when Mr. Poe, one of the Baudelaire?s parents? friends, said ?Children I have some bad news for you. Your parents perished in a fire that destroyed your whole house.? So the orphans stayed with Mr. Poe until they found a family member to adopt them. Finally they found Count Olaf. So the orphans go to Count Olaf?s to live. Count Olaf makes their life miserable. Then one day Count Olaf was very nice to the children, and he made them a nice breakfast. The orphans knew he was up to something. He was! Count Olaf was an actor, so he asked the kids to be in one of the plays called the Marvelous Marriage. He asked Violet, the oldest, to be the bride and pretend marry him. To find out if she really ends up married to him or if she gets out of it, read the book!!
I liked this book because the kids were always trying to please Count Olaf. When I read this book I felt like I couldn?t put it down. There was always something new happening. I thought this book was unique, because there wasn?t a happy ending where the characters ?live happily ever after?. You have to read the next book in the series. I also had a few characters that I liked. They were Klause and Violet. I liked them because they were always trying to figure out what Count Olaf was doing. I really liked this book!
I recommend this book because there is always something new happening. Someone who might like this book is someone who likes books that don?t have happy endings so you have to read on in the series.