The Very Hungry Caterpillar
Written by Eric Carle
Illustrated by Eric Carle
Reviewed by Monica G. (age 7)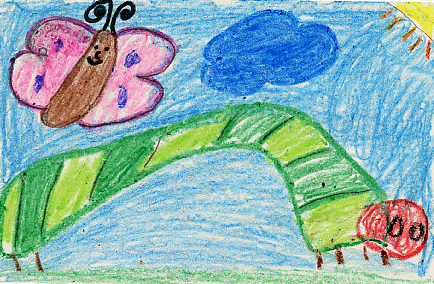 I read the story of The Very Hungry Caterpillar. The book is about a very hungry caterpillar who eats too much. He eats chocolate cake and ice cream, and he eats a lolipop. He eats too much junk food, and that is why he gets a stomache ache.
I liked the pictures in the book. They were very colorful, and looking at all the food made me hungry! I also liked the way the pages in the book were small, and then got bigger and bigger everytime you turned the page. The wholes in the pages were cool too because it looked like the caterpillar had eaten the food. My favorite part of the story was when the caterpillar makes a cocoon and he turns into a beautiful butterfly.
I think kids should read this book because it shows you what will happen if you eat to much. If you eat too much, you will get a stomach ache! I also think you should read this book if you want to learn how a caterpillar turns into a butterfly.