The Rainbow Fish
Written by Marcus Pfister
Illustrated by Marcus Pfister
Reviewed by Shirley M. (age 6)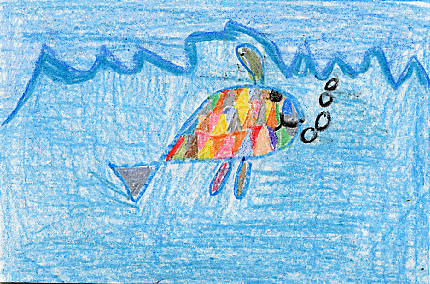 I read a book about a beautiful fish named Rainbow Fish. He was the most beautiful fish in the ocean because he had lots of colorful, shiny scales. In the beginning, he didn't have any friends because he would not share his scales with the little blue fish. None of the other fish would play tag with him because he would not share his scales. Then, he learned how to share after he went to see the wise octopus.
My favorite part of the story was when the Rainbow Fish shares his pretty scales with te blue fish and all of the other fish in the ocean. When the Rainbow fish shared his scales, he was happy because he had friends to play tag with. This part made me feel happy because Rainbow Fish was nice to the other fish when he shared his scales. I liked seeing the pictures of Rainbow Fish playing with the other fish.
I think everyone should read this book because it teaches you how to share and be nice to your friends. I also think kids should read this book because it has lots of colorful pictures of fish. If you like looking at pictures of fish, then you will like this book!