A Fairy Called Hilary
Written by Linda Leopold Strauss
Reviewed by Kaitlyn J. (age 9)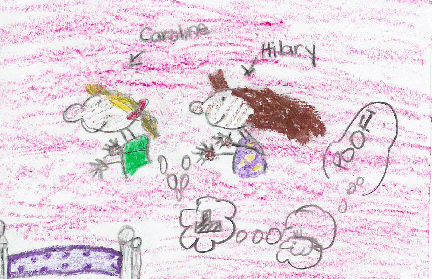 Do you like funny stories with good endings? If you do, try reading this one! Caroline is a normal, ten year old girl who was on her way to a museum with her family. Out of nowhere, a little girl Caroline's age appeared in the back seat of her car! Her name was Hilary and she was a fairy with a big nose and long, brown hair. She could even do magic! Would your parents let you keep a real, live fairy? Caroline's parents did! Life with Hilary was quite an adventure. They had to escape a herd of stampeding elephants on Halloween night. They even went on a wild airplane ride! Then Hilary decides that she wants to go back to Fairyland to see her family. Caroline is so sad. Will Hilary even come back to see Caroline? Read this story and find out!
This book is great because it is full of surprises and made me laugh. I was always excited to read about Caroline and Hilary's next adventure. My favorite part was when the girls tricked two boys who were teasing them about a snowman. Hilary used her magic to make the boys slide and fall in the snow. The boys were so confused! Caroline and Hilary were a great team and had so much fun together. That made reading the story fun too!
I definitely recommend this book. It ws so fun to read and talk about with my friends. If you like humorous, adventureous, make-believe stories, you'll love this one!