Hurricane City
Written by Sarah Weeks
Illustrated by James Warhola
Reviewed by Ryan S. (age 6) & Liam B. (age 6)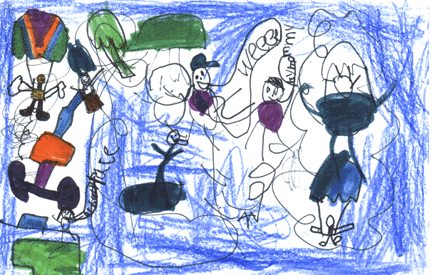 Hurricane City is a hurricane book. Hurricane City is an alphabet book too. Every letter in the alphabet has a name. For example, Hurricane Alvin is on the A page, Hurricane Bertha is on the B page, Hurricane Chester is on the C page, and Hurricane Dinah is on the D page. The book is also a rhyming book. The illustrations are funny and interesting. They show what hurricane winds can do?blow people away, make people fly, make telephone polls fall over, and even blow a dog's fur off!
We especially like Hurricane Zack because it caused lots of funny things to happen. The hurricane lifted a surfing dog out of the ocean and into the sky, so he was now surfing in the air. It was funny. Hurricane Zack also blew a kid away with his beach ball.
We like the book because it makes us laugh. We think everybody should read this book because people might think this book is interesting and very funny. It is interesting because it is an alphabet book and a book about hurricanes at the same time. It?s funny because the hurricanes cause lots of trouble. We think pre-schoolers and kindergartners would like this book the most because it's an alphabet book. They might laugh and also learn the alphabet. We?re in first grade and we love it too. We think other first graders should rush out to get this book!