Junie B., First Grader Boss of Lunch
Written by Barbara Park
Illustrated by Denise Brunkus
Reviewed by Kelsey J. (age 6)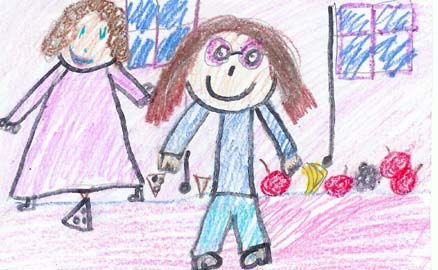 Junie B. is seven years old and she badly wants to be a helper in her school cafeteria. She asks Mrs. Gutzman, the lunch lady. She's Junie B.'s hero! Junie B. even thinks the lunch uniform is cool. She is so excited about helping that she dances around. On her first day working the in cafeteria, she finds out that it's not so great. First, she thinks it stinks in that place. Also, Junie B.'s classmates made fun of her. Meanie May even told her, "You are not a REAL lunch maker!" Junie B. felt very sad and disappointed. Don't worry!!! The ending is a happy one!!!
This book is great. My favorite character is Junie B. Jones because she is so funny and she makes me laugh. My favorite part is when she begs her mom and dad to let her help in the cafeteria. It reminds me of when I beg my mom to watch cartoons! This story also has hilarious pictures.
I recommend this book to anyone who has a good sense of humor and loves to laugh.