Angelina's Birthday
Written by Katherine Holabird
Illustrated by Helen Craig
Reviewed by Jana K. (age 7)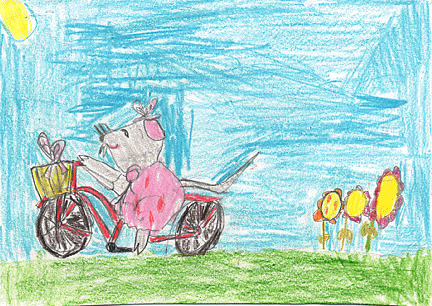 Angelina's birthday is coming soon. She and her friend Alice race home from the party store. Angelina crashes on her bike and it breaks. She tries to make money by doing jobs so she can buy a new bike. But the bike costs too much. For her birthday, all her friends and family put their money together and buy her the new bike.
Angelina is a little mouse who likes to dance. She is a good mouse. There are lots of Angelina books. This book is good because Angelina tries to save money to buy a new bike. The pictures are very pretty. Angelina is a hard worker. I am too. Angelina is a ballerina. I am too. We share a lot of things.
Angelina books are good for people who like to read stories about animals. Angelina books are pretty to look at.