Ten Apples Up on Top
Written by Dr. Seuss
Illustrated by Roy McKie
Reviewed by Darcy D. (age 7)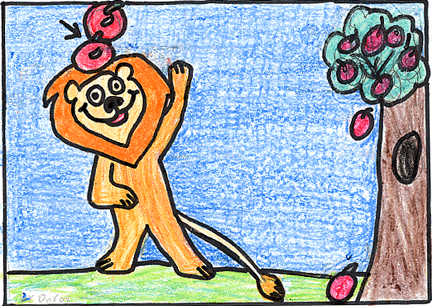 Have you ever tried to balance something on your head and walk around? In this book, there are three characters that put ten apples on their heads. First, they start out with one apple and keep adding more apples and doing funny things trying to keep the apples from falling!
This story is about having fun and counting. I like the book because it keeps getting more and more exciting as characters add more apples to the top of their heads. The illustrations in this book are simple. The artist uses only a few colors to fill in her parts of her pictures. The three main characters are a lion, a dog, and a tiger. My favorite character is the lion because he keeps trying to balance as many apples as the dog and tiger. He does not give up. I am a lot like the lion because I try new things and keep trying until I can do it!
I recommend this book to children that like exciting and funny stories! If you like books with animals and reading rhyming stories, you might like this book.