The Jester Has Lost His Jingle
Written by David Saltzman
Illustrated by David Saltzman
Reviewed by Nathan L. (age 6)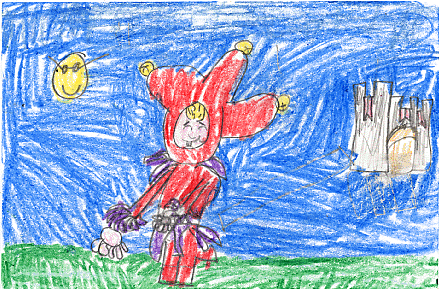 "One day the world awoke and nobody was in the mood to joke." Jester and his friend Pharley, a piece of talking wood, tried to find laughter far and wide throughout the world. He asked a poor man and he asked a busy man and he asked a little girl. But they did not know. Jester made the little girl laugh. Soon everybody laughed.
My favorite part was when Jester helped the girl in the hospital smile. She was sick because she had a tumor. Jester told her to try to smile whenever she feels like crying. Jester made her laugh and the laughter spread to others in the city. I think the illustrations are good because it uses a lot of colors. It makes me feel good because found laughter thanks to Jester.
Do you know where the laughter is hiding? I learned where the laughter is hiding and if you want to know then I recommend that you read this book.