Hooway for Wodney Wat
Written by Helen Lester
Illustrated by Lynn Munsinger
Reviewed by Tristan E. (age 7)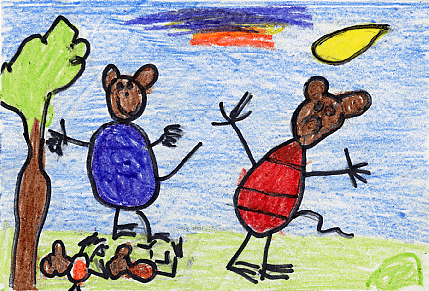 I read a book about a rat named Wodney Wat. His real name was Rodney Rat. He could not say the "r" sound. When he tried to say words with the "r" sound, he would make the "w" sound instead. That is why everyone called him Wodney Wat. Rodney was very shy, and he didn't talk alot because the kids in his class would tease him because of the way he talked. When a mean girl named Camilla Capybara came to their class, Rodney was really scared because she was really mean. He didn't want her to hear him talk because she would laugh at him. My favorite part of the book is when Rodney Rat is the leader when the kids play "Simon Says." Camilla can't understand Rodney when he talks, and she does everything wrong. The best part was when Rodney says "go rest" and Camilla thinks he says "go west." Camilla goes west, and she is gone. I think Rodney solved all of his problems when he made the new student go away.
I liked this book because it taught me that it is not nice to tease people. Because Rodney felt really sad when the kids teased him. I really liked the part when Rodney made the mean girl go away, and all the kids wanted to be his friend. That part made me feel happy!
I think my friends should read this book because it is funny, and you can learn how to be nice to other kids.