Clifford the Small Red Puppy
Written by Norman Birdwell
Illustrated by Normal Birdwell
Reviewed by Jonathan C. (age 6)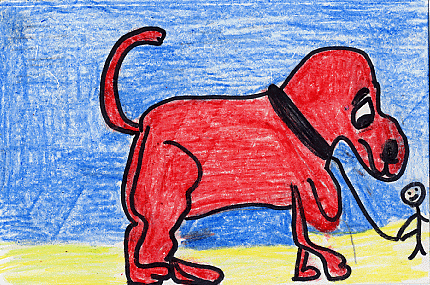 I read the book "Clifford the Small Red Puppy". The story is about a girl named Emily Elizabeth, and her new puppy named Clifford. When Emily Elizabeth first got Clifford, he was really, really small. He was so small that Emily Elizabeth had to feed him with a baby bottle. Clifford was the smallest dog Emily Elizabeth had ever seen. She took really good care of him. She fed him everyday, and he got bigger and bigger. One day, Clifford got so big, that he couldn't fit in Emily's house anymore, and she had to give him away! This made Emily Elizabeth very sad.
I like all of the Clifford books, but I like this one the best, because it tells how Emily Elizabeth took care of Clifford when he was a puppy. If I had a dog like Clifford, I would take good care of him too! I wish I had a dog like Clifford!
I think this a really good book. If you like "Clifford" books, then you will really like this one because you can learn how Emily Elizabeth got Clifford. This book can also teach you how to take good care of your dog.