Sylvester and the Magic Pebble
Written by William Steig
Illustrated by William Steig
Reviewed by Mark O. (age 8)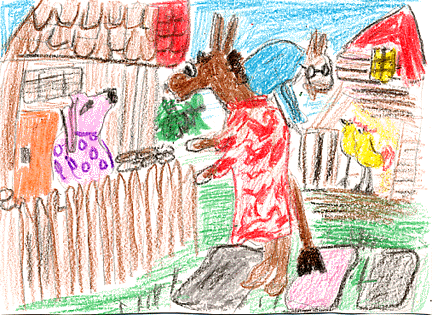 My book review was about a donkey named Sylvester Duncan who lived with his mother and father in a small town called Oatsdale. Sylvester liked to collect interesting pebbles. On a rainy day during his vacation, he found a small,shiny pebble that looked like a marble. While he was holding the pebble he said, I wish it would stop raining, and it did! Everything he started to wish for came true with the pebble in his hand. One afternoon, while he was on a walk in the meadow, he met up with a lion. Sylvester was scared, and he wished he could turn himself into a rock to be safe. At the end of the story, his family finds him and he turns back into the original Sylvester.
I enjoyed the illustrations and the story plot. It keeps you in suspense until the end!
I would recommend this book to my friends and my family. They would enjoy the way the author wrote the book, and the characters, and happy ending. It reminds you how important it is to have a loving, caring family!! It also teaches you about wishes.