Junie B. Jones has a Peep in her Pocket
Written by Barbara Park
Illustrated by Denise Brunks
Reviewed by Ellen D. (age 6)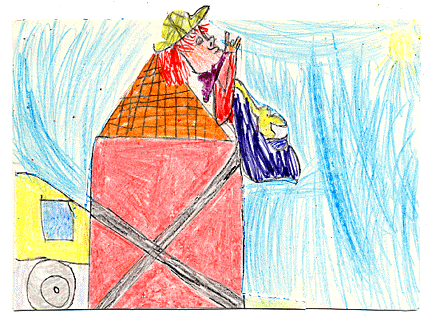 This book is about a girl in kindergarten who goes on a field trip to a farm. Her name is Junie B. Jones. Junie B. was afraid of the ponies and the roosters so she hid on the bus. Her teacher found her on the bus and took her outside of the bus with the other children. Then she met a little chick and wanted to take it home. Then she was not afraid of the farm.
I liked this story because I am in kindergarten, too. I liked the pictures because they helped me think of the story in my head.
My favorite part was when Junie B. liked the farm because then she was not nervous anymore.
The book made me think about being nervous and what I would do if I were Junie. If I were Junie I would not be nervous about the farm and hide in the bus.
I would recommend this book to children in kindergarten because it talks a little about going to first grade.